Croustade: classic French apple pie
Croustade, wonderful crispy, apple goodness, it's a buttery classic French dessert that can best be described as the love child of a flavorful flaky Middle Eastern Baklava and a wholesome apple pie. Made with paper thin sheets of phyllo dough filled with crisp tangy apples flavored with orange blossom water, and cinnamon, Croustade will certainly prove to be the most aromatic apple pie you will ever have. Simple yet extremely elegant and moreover incredibly delicious, this tart hails from southwestern France where the landscape is dotted with luscious groves of tart and juicy apples.
A few weeks ago I was ogling dessert recipes online when I came across Croustade for the very first time. Extremely excited after watching a very amateur video featuring a lovely elderly woman making Croustade, I leaped out of my chair and ran over to Frenchie.
I tried to get him to describe, what I could only have imagined was one of his childhood treats, only to discover that not only was he clueless of what I was talking about, but to make matters worse, he wasn't very keen on learning more about it, or looking at old ladies stretching out dough. In his defense I caught him off guard and working. However being over enthusiastic with all things food related, I really don't, for the life of me, understand this Frenchman's lackluster approach to what I consider life's greatest pleasure.
Despite his lack of interest, I knew this was THE dessert for Frenchie. Thin pastry filled with apples? It's basically his favorite.
I was determined to research all I could about Croustade, AND make the best Croustade my significant other will ever have. In retrospect that was a darn easy task, seeing as how he had never ever tried one before.
The more I looked into it, the more I found that the process of making Croustade from scratch was arduos to say the least. It's baked in a labor intensive dough referred to as "bride's veil" or "nun's veil" because it is so thin you see through it. "From-scratch" Croustade is made by especially caring and selfless mothers and grandmothers for their loved ones. The family recipe is zealously guarded by the family matriarch and only passed down when the time is right.
At first the idea of hand stretching dough seemed like loads of fun, until I remembered the dreaded Sfogliatella chapter of my culinary life. Sfogliatella, sometimes also called lobster tails in the US, are a traditional sweet from Naples. Very simple flavors – ricotta, orange rind, pistachios, just like almost all Italian sweets – but SOOOOOOOO incredibly labor intensive. Sfogliatella are in my book a nightmare to make.
While I had my bakery/catering company in Bogotá we catered to an Italian restaurant that implored us to make Sfogliatella. At first I was like "Sure, no problem we can make that", but with time I grew to regret my big mouth. They take an incredibly long time to make and are dirt cheap, so profit was, lets say not great. Our Sfogliatella though were spot on, a large chunk of the Italian expat population in Bogotá would flock to bite into the crispy goodness alongside an espresso regularly, much to my staff's horrified dismay.
Resolute to making my life a bit easier, without giving up on Croustade altogether, I found that the dough is really NO different from phyllo. I mean sure, some recipes can vary a tad in their ingredients list, but in order to achieve that characteristic flexibility that allows the dough to be stretched so thin, you MUST maintain that 2:3 water to flour ratio.
I found that way the dough is rolled out and then hand stretched is also quite identical to phyllo. So in view of all my dough findings, I STRONGLY suggest you use store bought phyllo and save yourself a couple of hours work and and a day of dough drying.
If you are interested in checking out the world's most adorable phyllo dough maker, click this link.
I know my phyllo argument will make more than one Croustade purist hyperventilate, and I get it, a lot of people of the Sud-Ouest region of France seem more keen to keep their culinary traditions intact, than to put their feet up after baking. The end result though is that Croustade is enjoyed only during very special occasions. Maybe it's that nostalgia and anticipation which evokes that crispy apple pie passion amongst the locals. And believe you me they are fervent lovers of Croustade.
Though the dough is not the only thing that resembles Baklava. Remember the flavorings? Orange blossom water and cinnamon? At this point you must be wondering why this pastry from Southern France resembles those hailing from the Middle East so much.
It turns that Croustade, and its variations, including Tourtière, Pastis Gascon (not to be confused with the drink) and Pastis Estirat, have been around both just north and just south of the Pyrenees (the mountain range that separates Spain from France) since the Middle Ages. It seems that the dessert was an adaptation of a type of Baklava enjoyed during the Caliphate of Córdoba's muslim rule of Spain.
The dessert was most likely introduced in the area by way of Iberian Christian migrants settling in France trying to to avoid muslim domination. Nuts and quinces were swapped for the more abundant apple, but the flavorings; orange blossom water and cinnamon remained the same.
It's funny really because when you take that first bite of Croustade your senses get a bit confused. Here you are having a luscious apple pie that just transports you to the Middle East, and yet it is as French as Baguette.
According to scholars, the word Croustade comes from the Occitan and Catalan word Crostada, meaning crust, clearly a tribute to its fantastically crispy and flaky crust.
Recipes vary from family to family, some prefers baking cooked apples while other favor raw ones, it can be either flavored with the more traditional orange blossom water or Armagnac or Brandy which seem to be incredibly popular too.
Croustade or Tourtière is a massive part of the cultural identity of the Sud-ouest. Not only is it ever present, taking center stage, in important family gatherings, celebrations and special occasions, but curiously enough it is responsible for kitchen design and layout.
In order to make bride's veil dough, hard-core "croustade-makers" need a table of the appropriate dimensions and have enough space around it to maneuver and stretch the dough comfortably. In fact kitchens in the "Croustade-belt" are not only bigger but tend to accommodate an oval breakfast table. I guess if you were really passionate about pizza making, and had the means and space, you would also install a wood fired oven in your kitchen.
It is safe to say that Croustade is considered much more than simply just dessert, it seems to be much more in tune with cultural heritage. Croustade-aficionados find in their beloved gateau the perfect pretext for all sorts of folkloric and colorful festivities celebrated all over Southwest France, during the warm summer months.
Although many towns host their own Tourtière fair, the most famous by far are the ones in Lot-en-Garonne; they seem to have found an excuse for TWO Croustade celebrations, the one in Tournon-d'Agenais' which takes place mid August, and last but certainly not least the one in Penne-d'Agenais which is always celebrated on the second Sunday of July. Here home-cooks submit their tourtière to a grand jury comprised of the most expert team of local specialists.
Now despite being very few in number – recent census claims there are only 2,347 Pennois –they all grew up with their grandma's Croustade etched into their minds, and anything short of perfection will never do.
The Tourtière or Croustade festival is organized by a non profit organization comprised of the cream of the cream of the most sophisticated palates in the whole Penne-Agenais, called "Les Amis de la Bastide".
Local bakers set up shop early in the morning eager to cater to a downpour of frantic Croustade enthusiasts. The festival lasts until late in the afternoon, or until the pies are all but gone, which ever happens first, the later being the most likely outcome.
Mid festival you can expect the Tourtière procession where a local group called the Tourtiérayres, a pastry-vigilante group of sorts, carries their beloved gateau through the crowd. The Tourtiérayres are dressed in black and red cloaks over frilly shirts. They carry a stopwatch around their neck and a black top hat with a red sash.
Once they reach their destination the pie is set down in the middle of the ceremonial tent. Then new members are sworn in, they must place on hand over the pie and swear their allegiance and their faith to the Tourtière.
I swear I am not making this up. If you would like to see more of the procession and swearing in ceremony click here or here for a complete recount of the 1976's festival.
After the ceremony the Brotherhood solemnly walk around the stalls tasting each and every one of the Croustades. After the ballots are casted and tallied, the person responsible for the best Tourtière is announced. Her tourtière is then ceremoniously presented to the raving crowd by the Tourtiérayres.
So if you're wondering why this little pie is all the rave of Southwest France here's my recipe. My store-bought phyllo method will leave you lots of time to spare and will be enjoying it in no time. Bear in mind though that this method will certainly render you a cheater in the ever watchful eye of the Tourtiérayres.
Croustade: Classic French Apple Pie
https://youtu.be/FGLgNNM379Y
Crispy layers of phyllo dough filled with sweet and tangy apple goodness, flavored with orange blossom water, and cinnamon. This classic French apple pie will transport you to both South-western France and the Middle East. The best part is how incredibly easy it is to make with this fool proof technique.
Yield: 12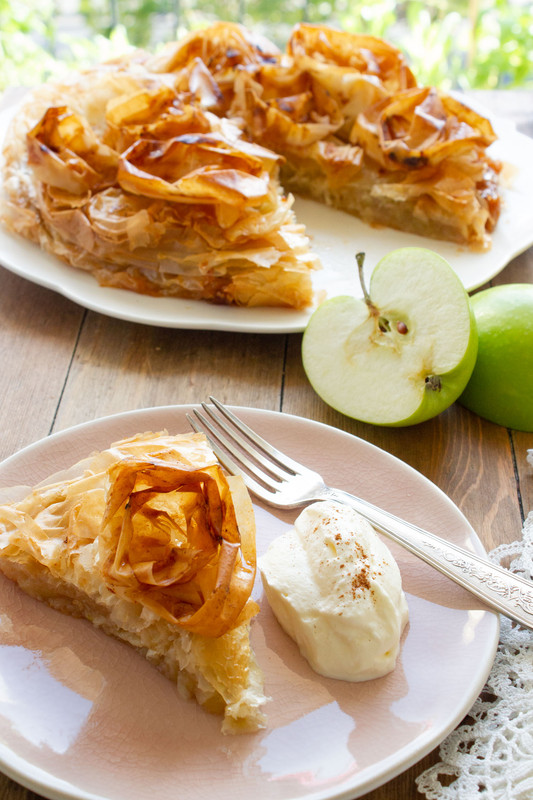 Croustade: Classic French Apple Pie
prep time: 20 mins
cook time: 25 mins
total time: 45 mins
Crispy layers of phyllo dough filled with sweet and tangy apple goodness, flavored with orange blossom water, and cinnamon. This classic French apple pie will transport you to both South-western France and the Middle East. The best part is how incredibly easy it is to make with this fool proof technique.
ingredients:
5 granny smith apples
170 g (1/2 cup) sugar
1 tsp vanilla
1 tbsp orange blossom water
1 tsp cinnamon
1 pack filo dough pastry sheets roughly 12 sheets
115 g melted butter (1 stick)
A couple of extra tablespoons of sugar for sprinkling
instructions:
Peel and core your apples
Mix apples with sugar and flavorings in a bowl and set aside.
Preheat oven to 350ºF or 180ºC.
Butter your dish and dust with sugar to create a nice crisp exterior
Roll out four sheets of phyllo onto your work surface and place them side by side roughly making a square. Cover the rest with a damp kitchen towel to prevent to dough from over-drying.
Brush dough with melted butter
Place four more sheets between the seams of the previously rolled out dough and brush with butter
Place two more sheets on top of the two sheets closest to you and brush with butter
Place apples on to the bottom fifth of the dough.
Roll dough with apples into a large cigar shape
Coil cigar and place in baking pan and brush with sugar.
Take remaining sheets of phyllo and crinkle and set them on top. Brush with butter and sprinkle with the remaining sugar.
Bake for 25 min or until golden brown.
Remove from pan while still warm, before the caramelized sugar hardens.
Enjoy right away, this "gateau" is best served warm!