Vegan Cauliflower Curry
This cauliflower curry packs bold, intense flavors and despite being a vegan dish will convert even the biggest carnivores. It's incredibly easy to make perfect for a quick weeknight dinner and also perfectly suitable for a relaxed weekend feast. Get ready to be transported to India!
A few days ago we went to visit my mother-in-law in England. While we were there she got incredibly excited about making us a cauliflower curry.
I have to admit I was not overly enthusiastic about the idea. Although I absolutely love Indian food, when she said cauliflower curry I imagined a meatless-blandish-curry with overcooked cauliflower.
Except for the meatless part, boy, was I mistaken!
It was VERY VERY good. And I didn't feel like I was missing out on the protein either.
You see, I'm still adapting to Frenchie's (and his family's) "That's too much meat, Michelle" diet. They are one step away from a vegetarian diet, and me on the other hand, having grown up in Latin America, am one step away from a full-on carnivore diet.
But this recipe delivered for all of us. Big time!
When we came back home to Paris I called up my mother-in-law and asked her for the recipe. She was tickled pink I liked it so much. And despite how much she wanted to give it to me, she told me she always plays it by ear and that she has no fixed recipe, however, gave me general guidelines to make it.
And so I did. But being the nerdy pastry chef that I am I wrote everything I did down for you guys because I'm pretty sure if I told you can swap ingredients and add whatever spices you want you probably wouldn't come back to my blog. And since I'm not willing to part with you just yet, I did my homework.
Not that I'm an expert on Indian food or anything, but it tasted quite authentic to me so I began looking into the dish. Was it really an actual Indian curry, or was this some sort of invention with a killer sauce?
Well, I found out that it is a simplified adaptation of an actual curry called Aloo Gobi. The name of the dish literally means potatoes (aloo) cauliflower (gobi) in Punjabi.
Now the major difference between my mother-in-law's curry and Aloo Gobi is the absence of potatoes, which is great if you're like me and trying to cut down on the carbs because man, I've been having a bit too many tahini chocolate chunk cookies and blood orange & almond tea cakes lately.
The original Aloo gobi is a typical kind of dry curry that originated in the Punjabi region which includes northern India and the neighboring eastern part of Pakistan. However the dish is so good that it has become one of the favorite dishes in all the Indian subcontinent, and now has all sorts of regional variations, think coconut gravy-like-curry-sauce, the addition of peas and all sorts of vegetables, you name.
Aloo gobi is very easy to pull off, it's very budget friendly, it's filling and it's oh so satisfying!
But with ingredients so foreign to the region like potatoes, cauliflower, and tomatoes the whole thing kind of threw me off. I looked into it a bit, as I normally do. I guess once a food nerd always a food nerd (and by food nerd I mean nerd-nerd, because really my nerdiness has no boundaries, and I'm quite proud of it too.)
My research confirmed my suspicions, potatoes, tomatoes, and cauliflower were all introduced in India by Europeans during the colonial period. The Portuguese brought tomatoes with them to Goa. As a side note, they also took with them a very traditional Portuguese dish called Carne de vinha d'alhos, a type of adobo that like its name says in Portuguese is meat with wine and garlic. As is to be expected, recipes evolve over time and hard to find ingredients are substituted for more local ones. The dish was "Indianized" by switching red wine for palm vinegar, all sorts of lovely warming spices and red chili peppers were added for a little more kick (chili peppers were introduced into India by Mr. Vasco da Gama himself). Syllables were dropped and boom! Vindaloo.
So next time you order a Vindaloo in your favorite Indian restaurant now you know where the dish came from. You can also boast a knowing a bit of food trivia to your tablemates.
Now potatoes and cauliflower were imported by the British. Potatoes are original of South America, while cauliflower seems to have originated in the sunny Island of Cyprus. The whole of the Indian subcontinent quickly embraced all the goodness that potatoes brought to the party. I mean just take a look at samosas. And if we want to talk about cauliflower, well it turns out that India is the world's second largest producer of the white bouquet-like vegetable.
Now I'm definitely not trying to say that without European exploration curry wouldn't exist, but I have to say, it would be slightly different.
Archeology has uncovered and analyzed a big ol' pile of dirty dishes in Farmana, very close to New Delhi. The site dates back to approximately the year 2500 BC and has been shedding light to how and what people of the Indus Valley Civilization were eating.
Now I don't know about you, but I find this kind of findings fascinating. It really strikes a chord in me and makes me feel like people back then weren't so different than you and me, and breaking bread with each other is perhaps the most relatable of all human experiences.
The study concluded not only that people in the in Farmana ate wheat, barley, millet, gram, garlic, eggplant, mango, ginger, and turmeric amongst others. But most interestingly upon further study of the cooking pots (and the dental calculus of human remains) it seemed that people in Farmana where cooking ginger, garlic, turmeric, eggplant, and mango TOGETHER. Which actually meant scientist had made a delicious discovery. The found what seemed to be a 4500-year-old curry.
It's all the more fascinating because up until then curry was thought to be the product of cross-cultural trade in India. Europeans brought many staples and the Turco-Mongol Mughals the culinary know-how from Central Asia. Sure the Mughal brought with them exotic spices, dried fruits, and nuts and revolutionized Indian cuisine forever but everything historians thought they knew about curry has been put upside down!
As a little side note, the Mughals were the ruling class of India between the 16th and 19th. They were devout Muslims from what is modern-day Uzbekistan, a crossroads of numerous cultures and one of the most important regions during the bustling Silk Roads period. With them, the Mughals brought uncountable artistic, medical, theological, and cultural wealth to an already rich India.
So it turns out that one of the world's most beloved dishes is not only native to India but it may well be the oldest continuously made meal in the world!
How's that for edible history?
My cauliflower curry is obviously not that ancient, but I have to say it is rather delicious. So here's my recipe. You can make it as a main dish on #meatlessmonday or as a side dish any day of the week. I can assure you your taste buds will thank you!
Yield: 4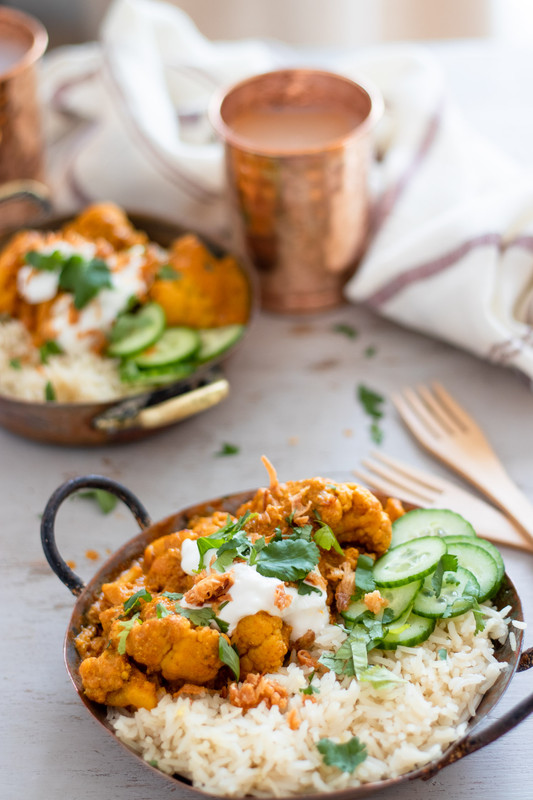 Vegan Cauliflower curry
prep time: 5 mins
cook time: 17 mins
total time: 22 mins
This cauliflower curry packs bold, intense flavors and despite being a vegan dish will convert even the biggest carnivores. It's incredibly easy to make perfect for a quick weeknight dinner and also perfectly suitable for a relaxed weekend feast. Get ready to be transported to India!
ingredients:
2 teaspoon garam masala
2 teaspoon smoked paprika
1/2 teaspoon cumin
2 teaspoon coriander seeds
2 large onion, finely diced
4 cloves of garlic, finely diced
Thumb sized piece of ginger, grated
8 tablespoons of coconut oil
400g tin coconut milk or yogurt (yogurt makes it extra creamy and tangy)
4 cups of cauliflower florets
Salt and pepper for seasoning
instructions:
Heat the oil in a large pan and add the onion. Cook for about 10 minutes until it becomes translucent.
Add the minced garlic and grated ginger and continue to cook for a couple more minutes.
Add the spice mix and stir well, cook for 2 minutes to release the flavors.
Add cauliflower and coconut milk or yogurt and let simmer for 10 -15 min
Serve with rice, sliced cucumber and a dollop of coconut (or regular) yogurt on top
Enjoy!